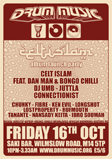 Drum Music Friday 16Th OCTOBER 2009
SAKI BAR , Wilmslow Rd, Manchester (Map)
10pm- 3.33am
The Drum Music collective's monthly session is a non stop mix of roots and dance music. Each member bringing you a fresh set of floor fillers old & new. Positive vibes and a friendly atmosphoere for all people.
ROOM 1 - Drum Music Live! Celt Islam - Album Launch Party
For the Launch of his debut album, "Dervish" on Urban Sedated Records, Celt Islam brings together some of the finest talent fusing eastern & western sounds, alongside some of the UK's finest Reggae vocalists & some suprise guests!
CELT ISLAM feat. DAN MAN & BONGO CHILLI
http://www.myspace.com/celtislam
http://www.urbansedated.com
East meets west in a battle for UK Dance music. Drum-Sufi-Step-Dub-Breaks-Mysticism.
Featuring 2 of the best voices in UK Reggae:
http://www.myspace.com/danmanakasunnyvoice
http://www.myspace.com/peppaman

DJ UMB
http://www.myspace.com/djumb
Global Beats champion & compilation meister.
JUTTLA
http://www.myspace.com/juttla
Prolific DJ & Producer of the Asian underground.
CONNECTIONIST
http://www.myspace.com/connectionistproductions
Country hopping, genre mashing rudegal.

ROOM 2 - Drum Music
CHUNKY - THE MIC MAN!

FIBRE - http://www.myspace.com/fibremusic - DRUM & BASS

LONGSHOT - http://www.myspace.com/longshotsoundsystem - REGGAE

LOSTPROPERTY - http://www.myspace.com/lostpropertyofficial - JUNGLE & TING

RUFMOUTH - http://www.rufmouth.co.uk - HIP HOP/BREAKBEAT/PARTY!

TANANTE - http://www.tanante.co.uk - AFRICAN DRUMMING FEAT. NANSADY KEITA & IBRO SOUMAH http://www.nansadykeita.com/
OTHER INFO
10k Sound system
from:
Stumblefunk
PRICE (on the door): £5 B4 12 £6 after
If you have questions or would like to arrange an interview with the organisers or performing artists please contact us on the following number:
INFO/ PHONE LINES: Ruf Mouth - 07748347367
©2007 Drum Music