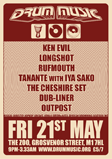 WE'VE MOVED VENUE!!!!


Drum MusiC Launch @ The ZOO! - Friday 21st May


THE ZOO, Grosvenor St, Manchester, M1 7HL (Map)
9pm- 3.33am

£5 B4 11 / £7

The Drum Music collective's monthly session is a non stop mix of roots and dance music. Each member bringing you a fresh set of floor fillers old & new. Positive vibes and a friendly atmosphoere for all people.

FACEBOOK GROUP: http://www.facebook.com/group.php?gid=6298979359

FACEBOOK EVENT: http://www.facebook.com/event.php?eid=102300539815687
SPECIAL GUESTS
THE CHESHIRE SET
http://www.myspace.com/barrysteppa
Cheshire expats, BarryVibes & Wellington-SkratchmasterTechno return to the North for onenight only. Packing up-front Garage & Dubstep, classic Jungle & Hardcore & exclusive dubplates!

DUB-LINER
http://www.myspace.com/dublinersound
Make no mistake this man makes & mixes massive Ragga-Jungle anthems. Get ready to jump high & get down low, Amen Brothers, and Sisters!

OUTPOST
Representing for the Herbal Sessions family, delivering a set from the left-field & melodic side of Dubstep and beyond.

DRUM MUSIC RESIDENTS:
KEN EVIL - http://www.myspace.com/ken_evil - DUBSTEP
LONGSHOT - http://www.myspace.com/longshotsoundsystem - REGGAE/DANCEHALL/STEPPERS
RUFMOUTH - http://www.rufmouth.co.uk - HIP HOP/BREAKBEAT/PARTY!
TANANTE Feat. IYA SAKO - http://www.tanante.co.uk - LIVE WEST AFRICAN DRUMMING

Sound system: Herbal Sessions Sound System
PRICE: £5 B4 11pm £7 after (on the door).
If you have questions or would like to arrange an interview with the organisers or performing artists please contact us on the following number:
INFO/ PHONE LINES: Ruf Mouth - 07748347367
©2007 Drum Music